GrowGreen Power Inc.
---
GrowGreen Power, Inc. (GGP) is an Independent Power Producer (IPP) that specializes in the clean-tech sector of renewable energy production and sustainable agricultural development on a global basis. GGP is a developer of commercial scale hydroponic greenhouses integrated with a diversified set of proven renewable energy technologies that incorporate a variety of energy platforms such as biomass, geothermal and/or concentrated solar power (CSP) collectors in a combined heat & power (CHP) configuration. The innovative inter-connection and integration of these technologies with the hydroponic greenhouse growing operation creates a unique and abundant source of locally grown fresh fruits and vegetables, and it produces a highly reliable and efficient source of renewable electric energy in a sustainable platform that we call a GrowGreen Power Center (GGP-Center).
Click on illustrations to expand view: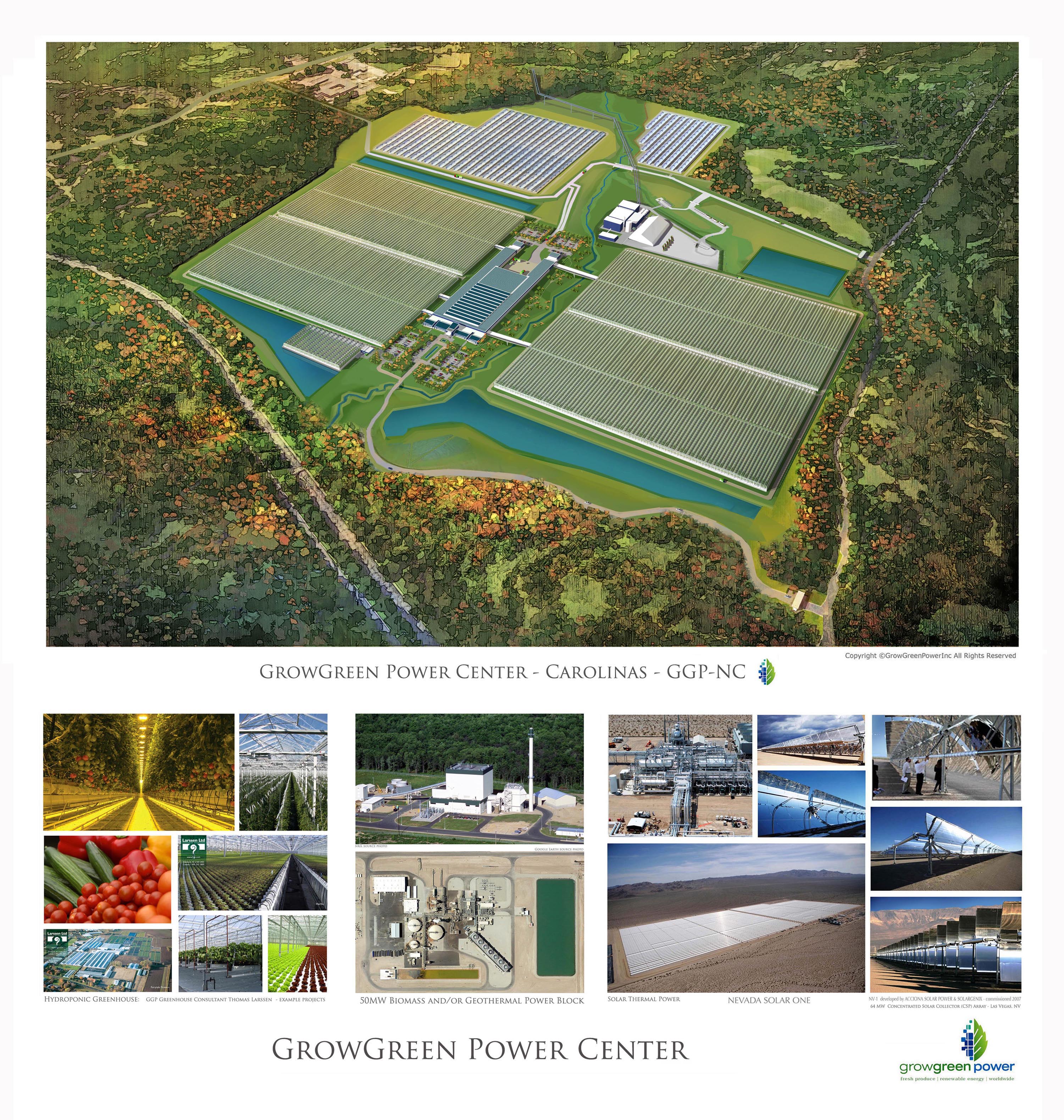 GrowGreen Power Centers represent a cutting-edge shift within the clean-tech industry. GGP is setting a new standard for what is NEXT in sustainable design innovation and development with our CHP technology platform producing both thermal and electric energy, combined with large scale (100 acre) hydroponic greenhouses producing fresh produce (fruits and vegetables) for the local communities that we serve. We intend to be in the on the leading edge of the clean-tech sector with our integrated energy and hydroponic growing and renewable energy business development model on the path to a sustainable 21st Century.
GrowGreen Power Centers integrate hydroponic greenhouse growing systems and renewable energy.  GGP-Centers combine solar thermal and biomass power to produce approximately 45MW-net of renewable, base load electricity transmitted to the regional grid. Combined with the CHP-Power Block, each GGP-Center typically will operate a 100-acre fully climate controlled hydroponic greenhouse that produces a wide varieties of hydroponic produce delivered direct to local communities and nearby regional markets. The integration of these systems provides for the significant reuse of residual, and otherwise lost, waste heat from the power plant to be used in the climate control systems to heat and cool the greenhouse. This integration of technologies adds far greater efficiency to the combined GGP-Center platform.
Each GGP- Center brings the local community more  than 300 to 500 permanent new jobs, while also boosting the local economy in the areas of construction, manufacturing, transportation, wholesale, retail and food service. 

This model is a key to bringing a new generation of sustainable and smart-tech industries with high value jobs back to local communities throughout America in what we call Economic Green Zones. 

Each GGP-Center is a highly efficient, reliable and sustainable facility with the ability to operate on base-load capacity in most climate zones and locations worldwide.
This is accomplished as a result of our innovative integration of technologies that typically consists of a 50-MW (gross output) biomass power plant combined with a concentrating solar thermal array (the solar array size and scope depends on the region where it is located). These two systems of producing thermal energy, when combined, drive steam turbines generating approximately 45-MW (net output) of clean renewable electricity uploaded to the regional grid, enough to power an estimated 30,000 to 40,000 homes on a 24/7 basis.
GGP-Centers are also in the recycled Waste to Energy Business, adding an additional sustainable component to our business model through the recycling Municipal Solid Waste (MSW) by first processing the material through a Engineered Fuel Facility (EFF) reclaiming recyclable material. Then, reprocessing the remaining material into a consistent source of engineered biomass fuel for the combustion cycle in the Biomass Power Block. 
The 45-MWs delivered to the regional grid is base load, and the process greatly reduces material that ultimately ends in landfills reducing environment damage and risk to water tables while preserving valued land resources.  The Biomass Plant meets all Air Quality and Environmental Standards set by the EPA and the individual States in the production of electric energy.  This process can be a model for communities and cities across America in the more efficient and environmentally responsible processing and recycling of MSW that all cities and communities produce in large volume annually, and returning valued recycled material to manufacturing facilities for new products, using less primary resources.
Increased demand for Sustainably Grown Produce Worldwide: In the United States, the per capita use of tomatoes and tomato products  has increased nearly 30 percent over the past 20 years according to the U.S. Department of Agriculture (USDA) Economic Research Service (ERS). 

Worldwide food and produce production must grow exponentially to meet estimated population growth. The World Population is currently at 7.3 billion in 2015 and is estimated to increase to 9.2 billion upwards to 11.0 billion people by 2050.
Increased production, greater efficiency in the use of  all resources (particularly water), far greater reliability and safe, fresh and local production of produce are necessary to meet this tremendous growth in demand. With an anticipated 3 Billion World Population growth between the present and 2050 and potential disruptions to traditional agriculture production from changing weather patterns, droughts, severe weather due to Climate Change, food reliability and security is an increasing concern Worldwide and should now be considered a National Security issue.  With both population growth and climate change, food security has become an increasing important critical planning issue for all communities,  particularly large cities and Nations Worldwide with each passing year.
GrowGreen Power Centers represent a key new integrated technology platform capable of meeting the sustainable production, environmental and increasing food security demands in the communities and regions we serve. 

Within each GGP-Center the hydroponic greenhouse is a fully climate controlled growing environment capable of reliably producing up to 30X- times more highly valued, fresh produce, while using less than 85% of the water in traditional farming in a clean pesticide free growing environment. 
Initially, GGP-Centers will produce tomatoes on the vine,  then in subsequent phases a wide variety of cucumbers, colored peppers, as well as fine herbs and lettuce will be grown producing abundant and fresh produce locally within 50 to 100 miles of community and city centers.  Each GGP-Center built will meet a key objective of the need to address increased dependable local food security with crops we produce for the local and regional markets we serve.  Note: The average travel distance of produce shipped from farm to market throughout the United States today is approximately 1,500 to 3,000 miles, and with a substantial amount coming in to the US  from Mexico particularly in the Winter months.
GrowGreen Power recaptures waste Thermal Energy for the Climate Control Systems in the Hydroponic Greenhouses. 
GGP-Center's Biomass Power Plant produces approximately 50-MW of renewable energy, most of which will be sold to the local utility.  The residual waste thermal energy will be recaptured and used in the climate control systems of the hydroponic greenhouse, support buildings and power plant, greatly enhancing the energy efficiency of each GGP-Center. The electricity produced will provide local utilities, and industries the option to purchase Renewable Energy Credits (RECs), allowing them to meet State mandates that require more energy to come from renewable sources.
Each GGP-Center's Biomass Power Plant's CO2 emissions are scrubbed, and then through an absorption process, purified to food grade quality and used to enhance CO2 levels in the greenhouse accelerating and optimizing growth of the crops. GrowGreen Power Centers apply clean energy systems and reuse thermal energy for climate control that is typically wasted. The advanced integration technology allows controlled growing environments to operate within a wide variety of climate zones.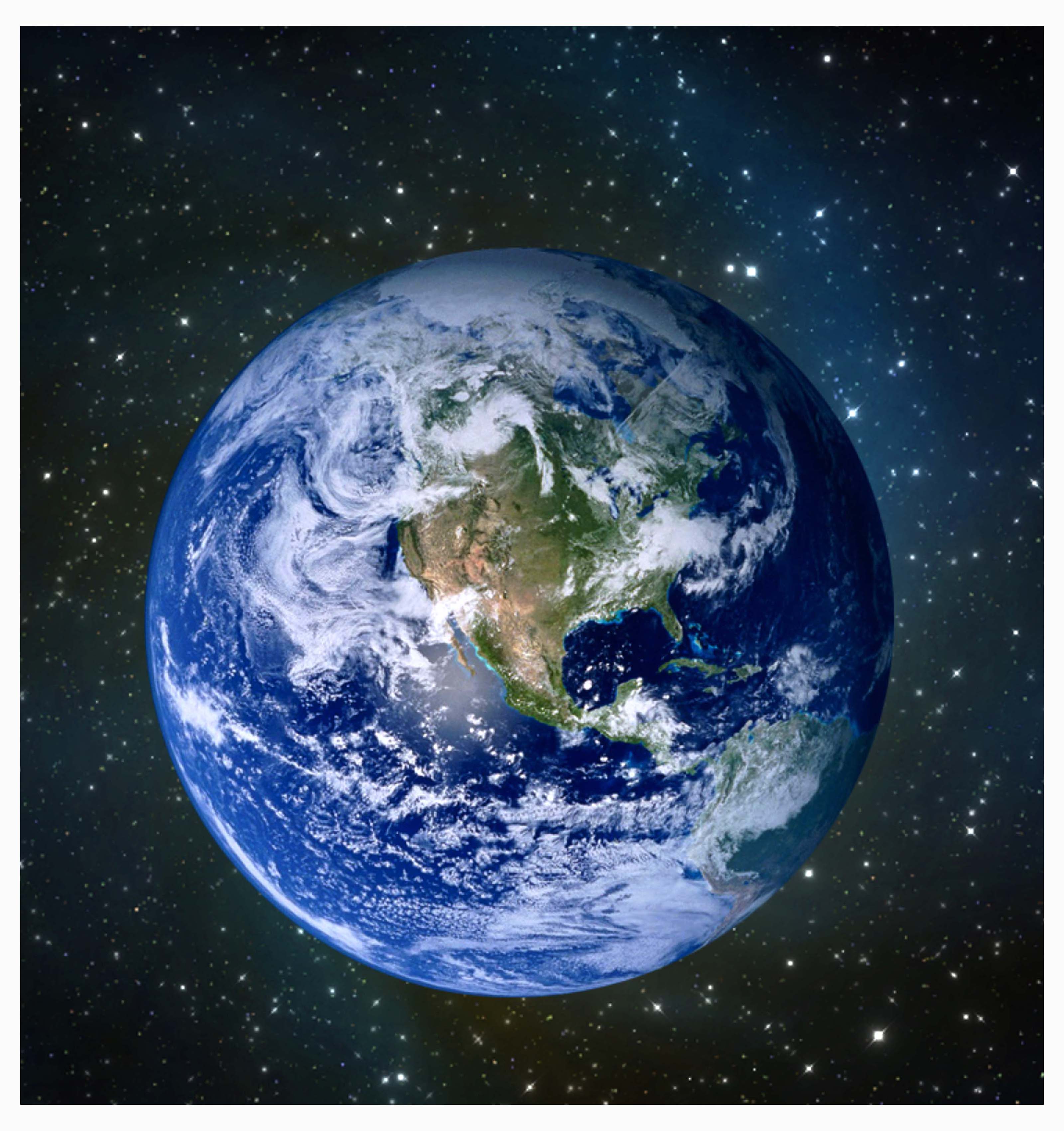 GrowGreen Power Inc. was founded in the summer of 2008 – by Christopher Belknap, Gary Bailey and Bradley Nixon. Shortly after the initial start-up funds were secured in 2010, L Huntley the CEO of GGP-NC (the first GrowGreen Power project in North Carolina), joined the team early in the start-up phase and has been key in the combined leadership and management of the GGP Team and resources leading to the start of GGP-NC.  This committed group of entrepreneurs and our technical and financial support team hold the belief that we can always strive for greater clean energy and sustainable systems in our development practices for a cleaner, greener and long-term sustainable planet Earth for generations to come. These are realistic, pragmatic and principled objectives that can be achieved now with a combined commitment by both business leaders and visionaries. GrowGreen Power systems represent an innovative new way to integrate existing technologies to provide communities with fresh produce and renewable energy.
Contact us:   to find out more about GrowGreen Power projects and investment opportunities.