GrowGreen Power  PROJECTS ……..
GrowGreen Power Center – Carolinas  (GGP-NC)

---
GrowGreen Power (GGP-NC) at present is focused on developing our first GrowGreen Power Center in the town of Wadesboro approximately 50 miles from Charlotte, North Carolina.  GGP-NC is anticipated to achieve non-recourse financial closing by the 1st quarter of 2016.
This project will begin with a Phase 1 50-MW Biomass Power Plant. Phase 2 will consist of 100 acres of hydroponic greenhouses in 4 quadrants and a Central Support / Packaging / Shipping & Administration Facility. Initially GGP-NC will produce Tomatoes on the Vine and in subsequent phases, Colored Peppers, Varieties of Cucumbers, as well Lettuce and Herbs, and a variety of fruits such as Strawberries, Blueberries and Raspberries.  The project is expect to contribute 300-500 new high valued jobs to the local community.

Click on Illustrations to Expand View: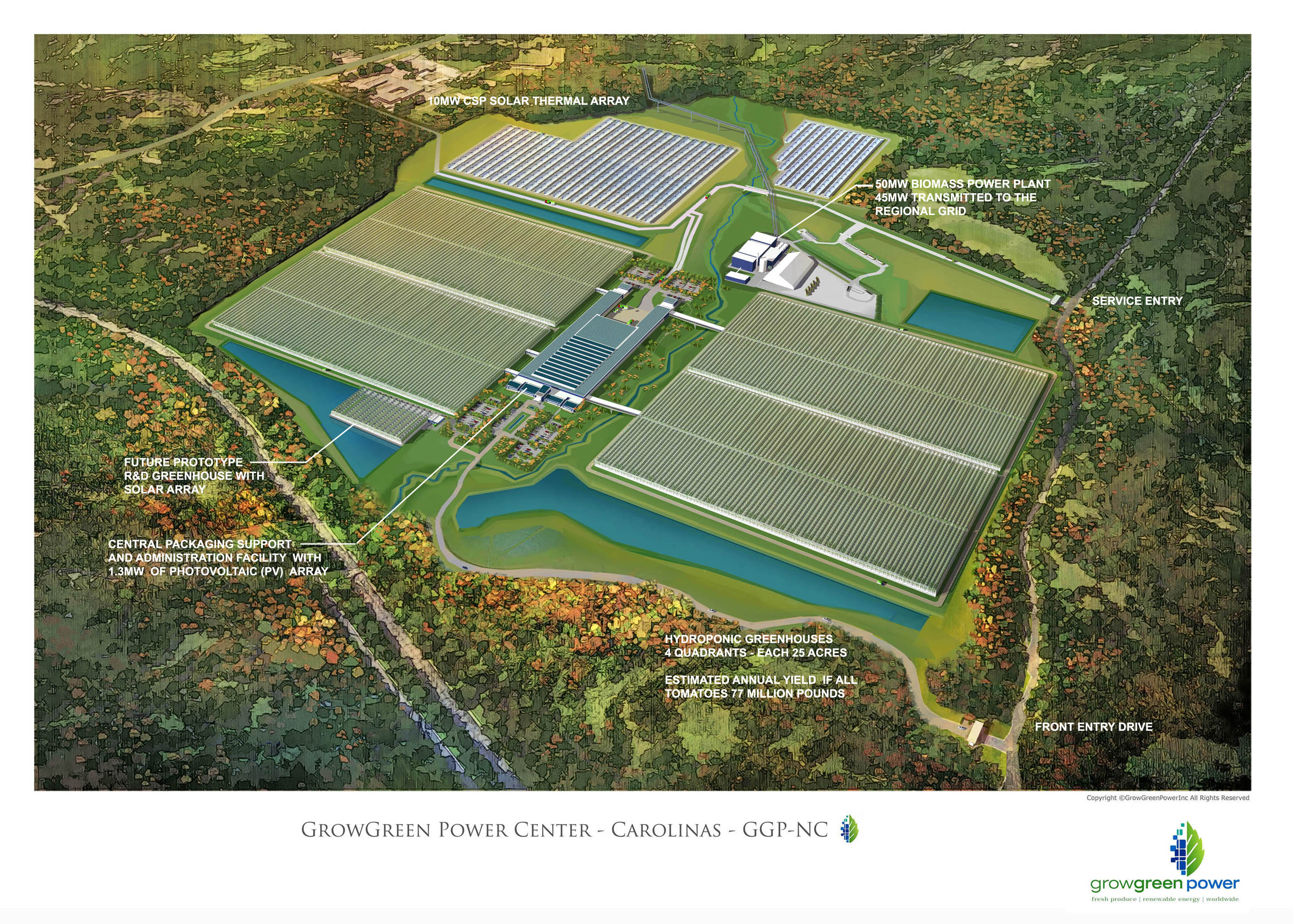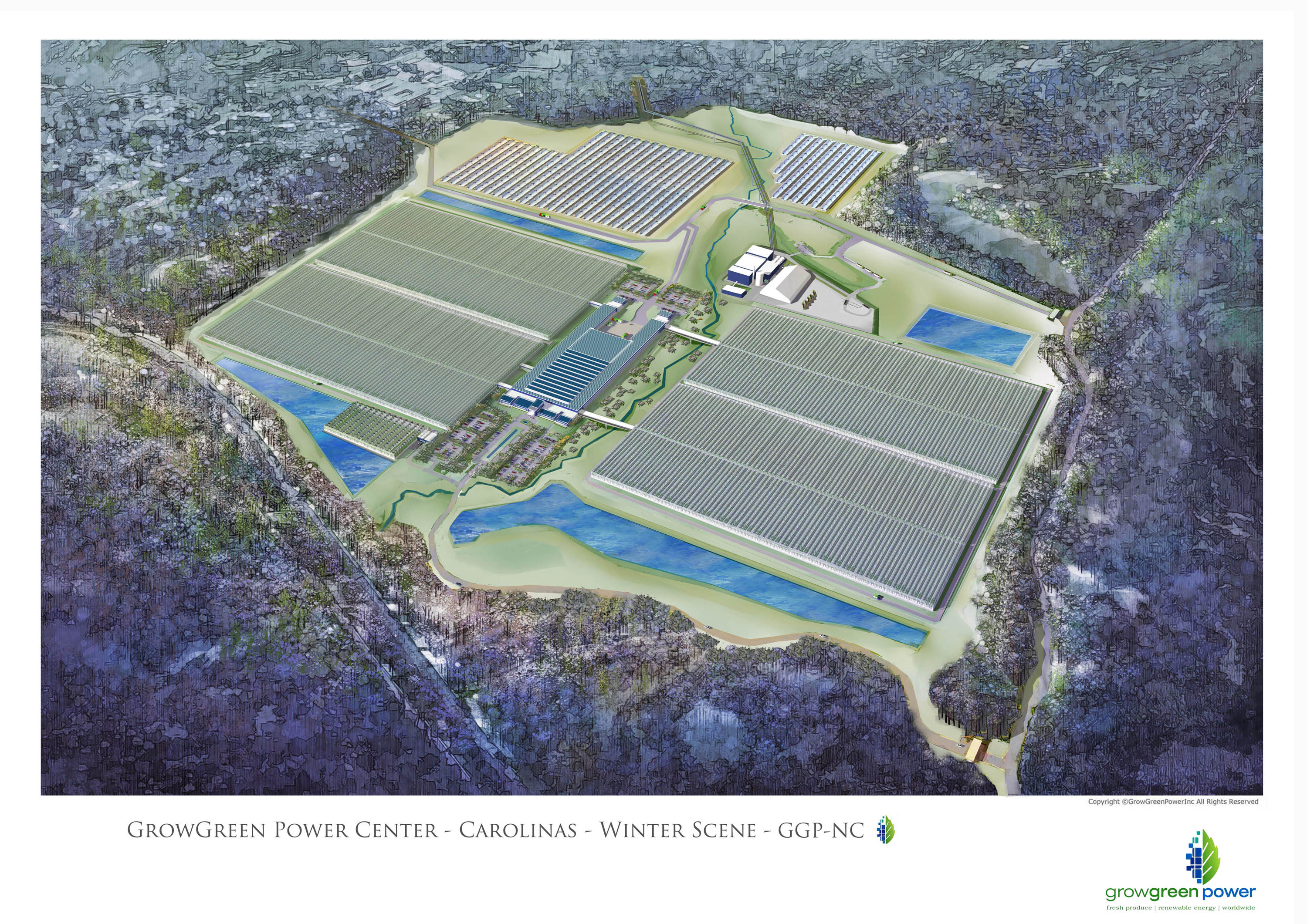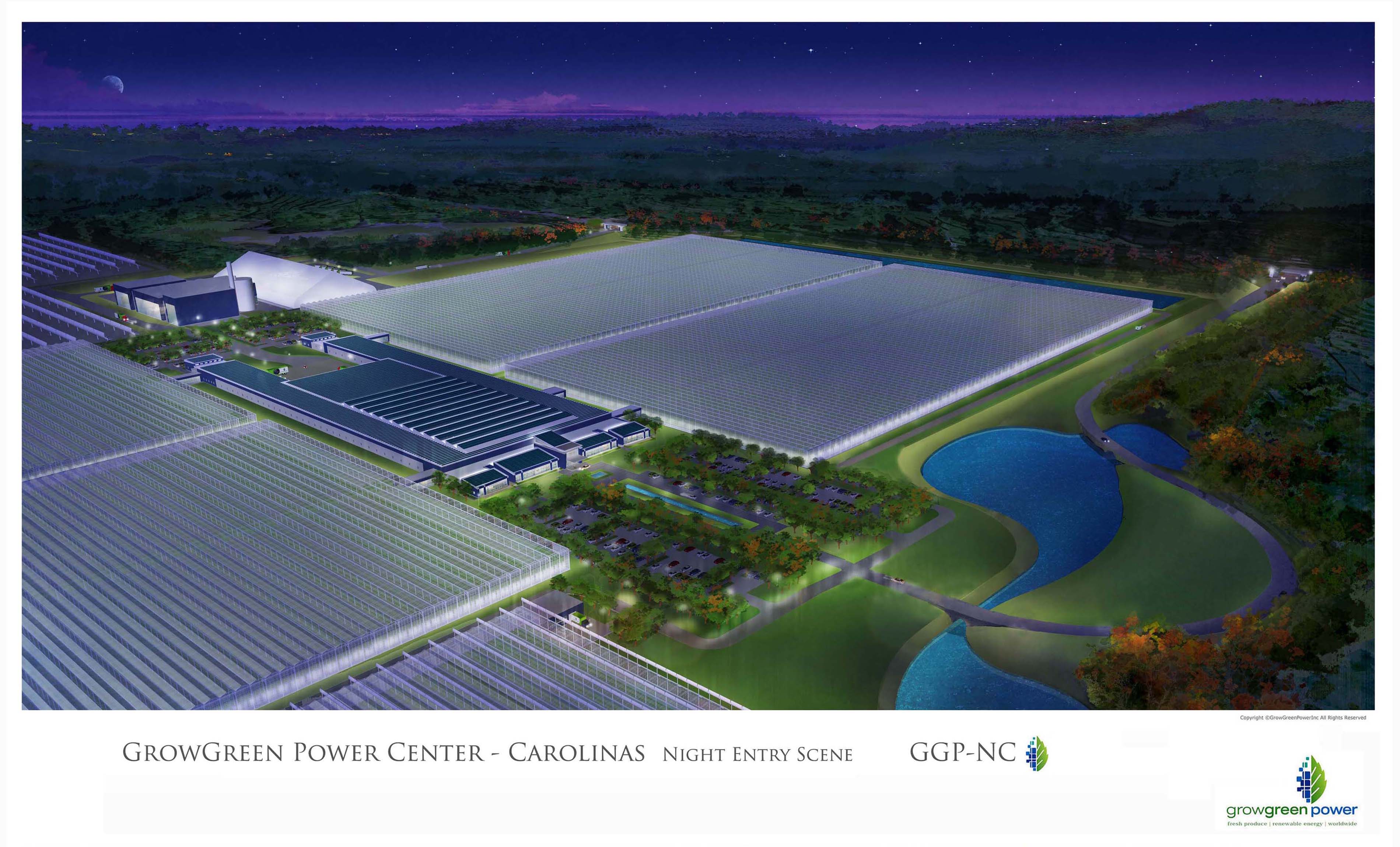 Proposal – GrowGreen Power Center – Northern Africa & The Middle East

---
GGP is looking forward to its next generation of GGP-Center projects in Colorado, California, Nevada, Arizona as well as other regions of the United States. GGP is continuing to explore new opportunities internationally in Mexico, the Middle East, North Africa and Japan where our technological advantage using the thermal energy we reclaim in our power production is used for the climate control of the hydroponic greenhouses in hot desert regions with high humidity.

The illustration below was prepared in an exploratory proposal for a combined Biomass/ Geothermal and Desalination Facility combined with Hydroponic Greenhouses in Northern Africa that was proposed for the State Department and a development group and is still pending at the present.  This region of the world had abundant geothermal resources and the need for desalination capability.
Click on Illustrations to Expand View: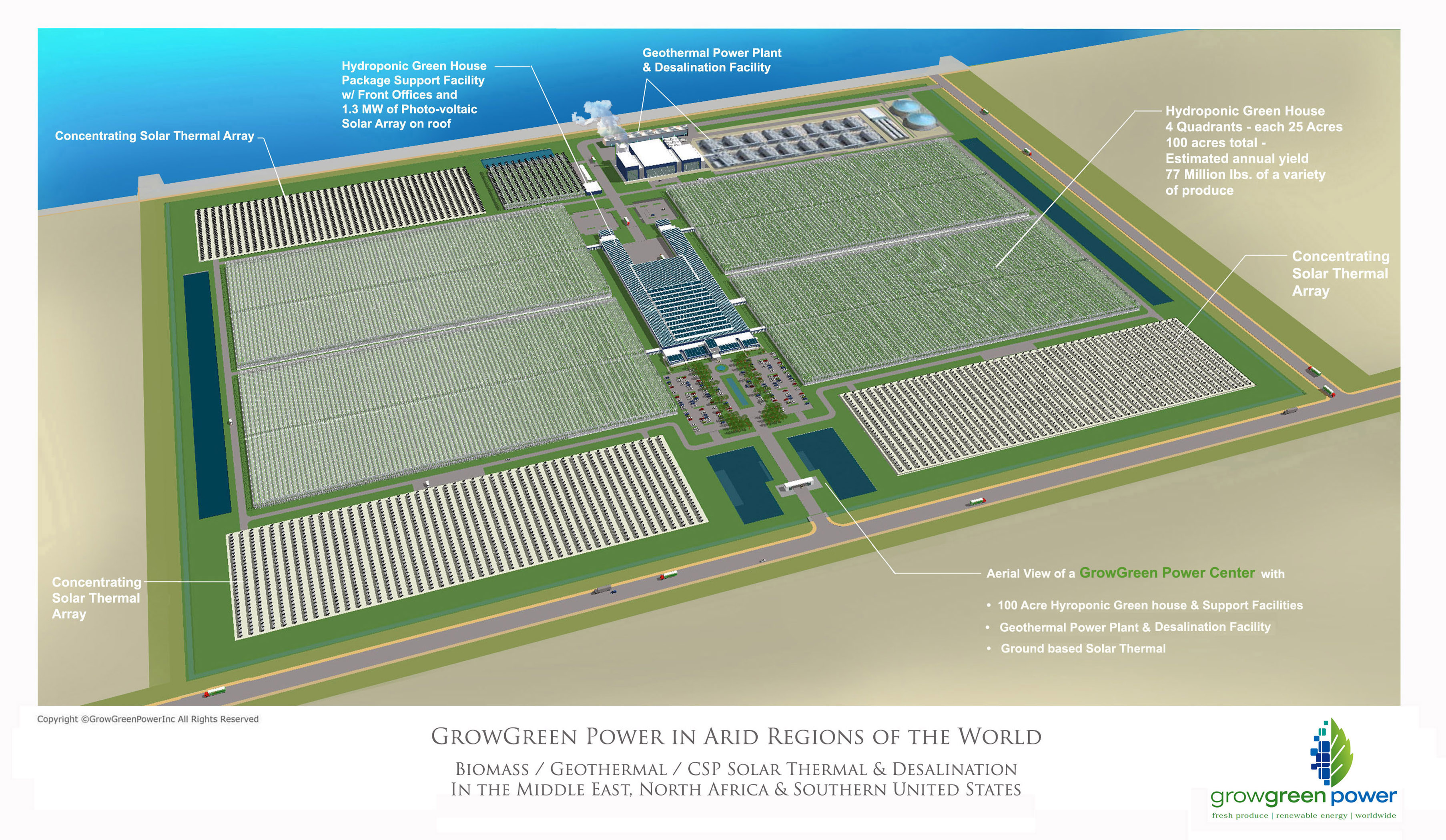 Proposed – GrowGreen Power Research Center – North Carolina

---
GrowGreen Power has submitted for a GGP Research Center connected with North Carolina Universities. This includes research on both advance energy systems in Biomass and Solar Thermal Technology as well as research into improving Hydroponic Greenhouse Growing  Climate Control Systems, Hydroponic Greenhouse Growing Methods and expansion of crops.  Status – Pending.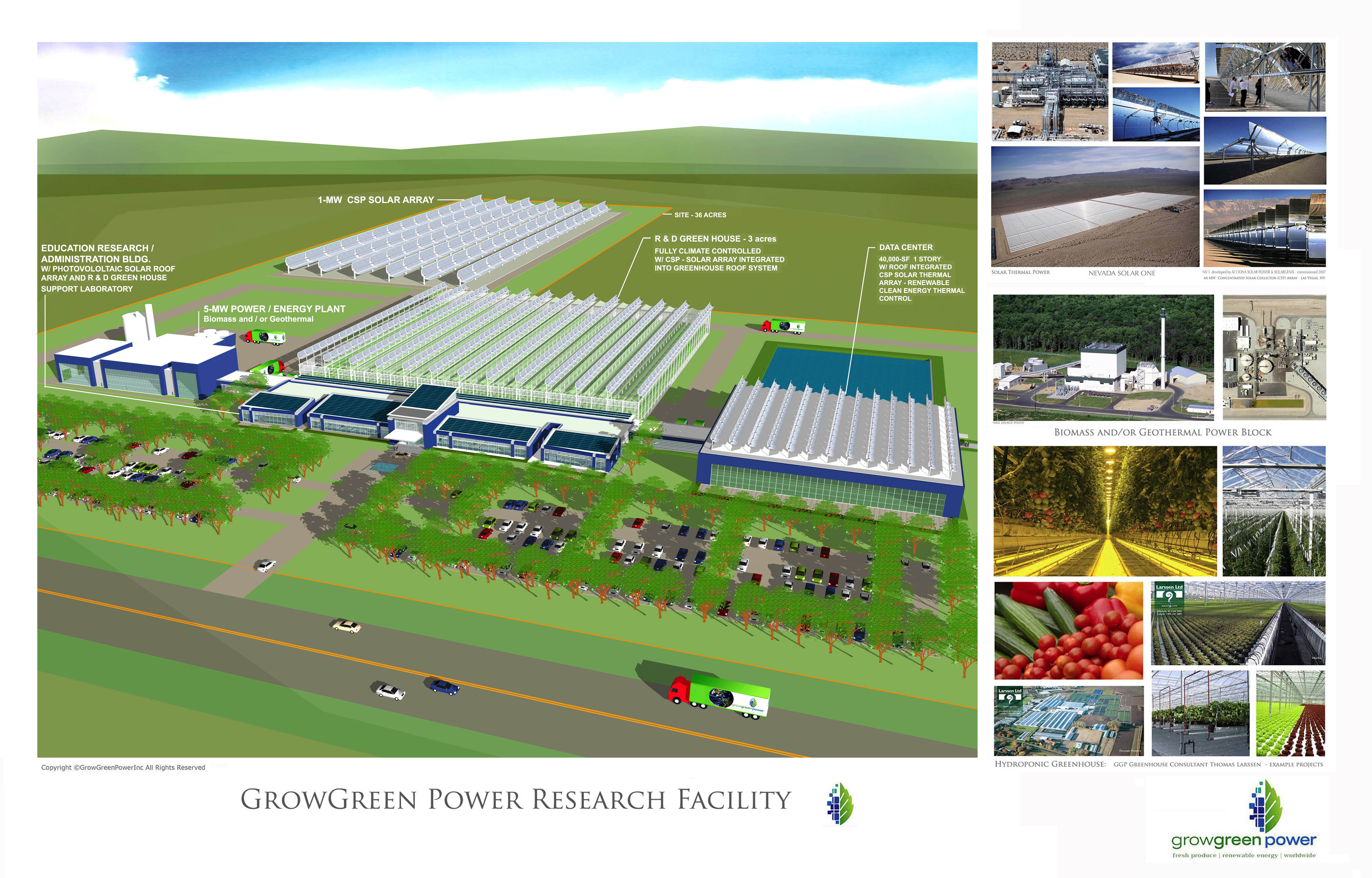 Proposal  – GrowGreen Power Center &  The Raleigh Cultural Center – North Carolina

---
GrowGreen Power, Innovative Design and Design Earth Synergy in collaboration have been assisting the Southeast Raleigh community and a non-profit, Passage Homes – in the conceptual development of an Urban Renewal Mixed Use Community / Cultural Center.
On approximately 3.5 acres, the concept consists of a series of commercial uses including a Small Community Country Store / Restaurant / Coffee Shop / Social Cultural Events Gathering Center & Community Vision in the Main Gathering Social Center. Then there is a Mixed Use Retail Center with an central arcade of shops for local community shop owners and two other mixed use buildings.
Over the top of the Mixed Use Retail Center and the main covered Parking Garage is a GrowGreen Power small community Greenhouse Growing Center of approximately 1.5 acres  that will provide the year round growing environment for a variety of vegetables, fruits, herbs and lettuce for the restaurant and  local market.  Using numerous principles of sustainable design and planning the goal of this project is provide the local community a new  Community Gathering Cultural Center / Retail Center / along with the Community Country Store and Community Greenhouse Facility to bring the small local neighborhood and community together and to provide an economic spark that will act as an economic catalyst to enhance the sense of community spirit and pride.

Click on Illustrations to Expand View: