HYDROPONIC PRODUCE……..
GrowGreen Power is committed to providing the highest quality fresh produce delivered direct to local communities from our hydroponic greenhouses. This is achieved by building relationships with nationally recognized growers who have set the standard providing great tasting, nutritious fruits and vegetables.
Click on image to expand view: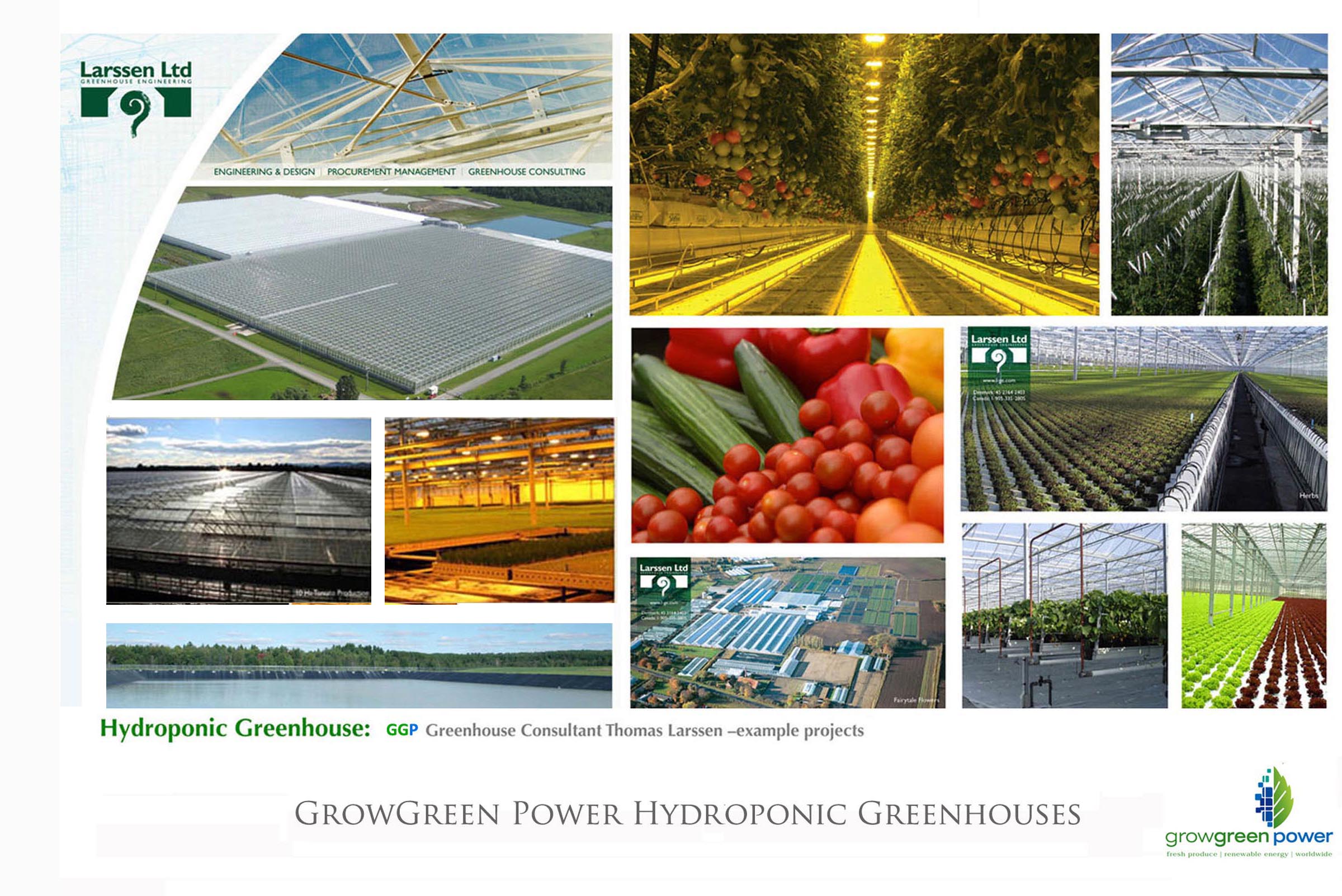 The hydroponic greenhouse is a fully climate controlled growing environment capable of reliably producing a yield of up to 30X-times more high quality, great tasting fresh produce than traditional farming. 
While hydroponics literally means "working with water", the plants are directly infused with the minerals and nutrients needed for healthy rapid growth in a fresh water solution.  Water is recycled a number of times through an advanced filtration system and pesticides are virtually eliminated from the clean growing environment. The result is a very high quality fresh, tasty tomato, cucumber or colored pepper with much higher growth rate, while using 85% less water than conventional agriculture.
A GGP fully climate controlled hydroponic growing platform is a very clean and efficient means of growing a wide variety of fruits and vegetables.
The greenhouse is a controlled environment that wards off organisms that cause food borne illness. The use of hydroponics also means a very high quality produce can be grown in nearly any climate zone, with the ability to reliably deliver an abundance of fresh produce to local markets. As costs of transportation rise and food security becomes a significant issue, locating food production facilities close to major population centers to lower distribution costs is best for the local economy and the environment. These lower transportation costs and a  shorter time to market create a greater competitive pricing for the local produce. Less transportation distance also translates to much fresher and better tasting produce, much better and reliable local food security for large cities and smaller communities with less handling and less time in transit.
Ultimately, what does all of this mean for the consumer?  GrowGreen Power's hydroponic locally produced fresh fruits and vegetables come from healthy, robust plants that are more resistant to pests and have great essential nutritional value our communities, families and children need to live healthy, energy filled lives. Just as important, our produce tastes great!

With regards to the local economy and local jobs,  GGP-Center will directly create an average of 300 to 500 permanent jobs on a year-round basis, delivering high quality and good paying jobs to the local community.
This includes approximately 300+ jobs in the typical 100-acre greenhouse and packaging support building, as well as additional jobs in the transportation/trucking and other related logistical/support jobs. Each GGP-Center represents a significant boost to the local economy and produces a substantial tax revenue base to the community where we build, own and operate every GGP-Center.
Hydroponic Green Houses- Central Points:
High Yield – 30x times higher than traditional farming -requiring far less land -preserving natural resources

Uses 85% less water than traditional farming – greatly reducing the amount of water used from local reserves

Pesticide Free – Clean,  Fresh Produce Growing Environment

Over 300 to 500 year round Local High Quality Jobs

Delivers locally the Highest Quality Fresh Produce 365 days a year reliably and directly to the Cities and Local Communities it serves

Delivering locally greatly reduces transportation cost, fuel used and greatly enhances the health and vibrancy of the Local Economy

50 MW Biomass Power Block – that is a sustainable Renewable Energy Power Plant that uses an engineered fuel made from recovered Municipal Solid Waste (MSW) that transmits 45 MW to the Local / Regional Grid 24/7 .

The 50 MW Biomass Plant provides a large supply of recovered waste thermal energy that is used in the highly energy efficient climate control systems that maintain the GrowGreen Power Centers optimum growing environments within the Hydroponic Green Houses.

This efficient delivery of otherwise wasted thermal energy to the Climate Control Systems allow GrowGreen Power Centers to be placed near Cities in most Climate Zones Worldwide – including  Hot – Dry and Humid regions as well as Cold- Freezing Climate Zones.

---
VARIETIES OF HYDROPONIC PRODUCE
GrowGreen Power hydroponic greenhouses produce a wide variety of Tomatoes, Colored Peppers, Cucumbers, Fruits, Lettuce and Herbs that are all produced within the fully climate controlled Hydroponic Growing Environments.
Within each Crop Sector the greenhouse is divided into its optimum Climate Controlled Growing Environment that delivers the precise temperature, humidity, light, water  nutrients and CO2 levels to produce optimum healthy growth for each crop variety. Optimum production and quality of produce or fruit is achieved, in a clean, pesticide free environment that also provides a year round over 300 local jobs that provide excellent working conditions for a highly train staff  that oversee all the high-tech monitors, greenhouse, packaging and shipping, water purification control systems, as well as the growers and technicians that maintain and pick the crops.
Below in the Images of Vegetables, Fruits, Lettuce and Herbs view the varieties of fresh high quality produce that can be grown in a typical GrowGreen Power Center.
           Click on any image to see expanded view: